Valentines Day Activities for Early Years
Valentines day can be a day full of fun packed activities for early years children. This is why we wanted to give you a few of our favourite activities we have found on the web! Take a look through and don't forget to use #discovercapture if you recreate any of the activities! 
---
Dino-Mite Valentines Craft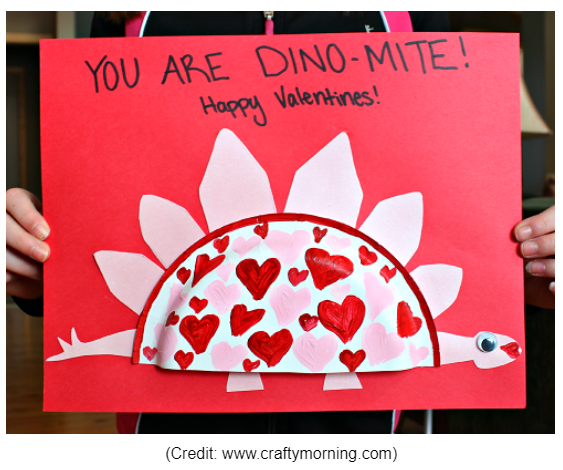 ---
Shopping list



Paper plates

Coloured card

Large sheets of paper or thin card

Googly eyes

Decorations such as paint, glitter, stickers, pom poms etc.

Felt tip pens

Glue

Scissors
---
Method
Begin by cutting a paper plate in half and decorating it with paint, stickers, glitter or anything else you fancy.
Cut rough triangular shapes in graduating sizes out of coloured card to become the dinosaur's spikes.
Next, cut a head and a tail shape out of the card.
Now it's time to start putting the dinosaur together. Begin by gluing the decorated paper plate to the lower middle part of some large paper or card.
Using glue, add the head and tail at either side of the plate, and the spikes along the top.
Using a felt tip pen and a googly eye, add the dinosaur's face and the message 'You are Dino-mite!' at the top of the paper.
Once you've added any additional wording, your dino-mite picture is ready to go!
---
Chocolate Play dough Recipe

(credit: 123homeschool4me.com) 
---
Shopping list
1 1/2 cups flour
2 TAB vegetable oil
1/2 cup cocoa powder
1 cup salt
2 cups water
2 TAB cream of tartar
---
Method
Add all ingredients to a medium sized pan
Keep on a medium-high heat, stirring until it forms into a soft ball. This takes around 5 minutes
Use a spatula to take the playdough out the pan and leave it on wax paper to cool down. 
Knead the playdough  a couple times to get the smooth, glossy playdough look and enjoy! 
---
 Valentines Sensory Tub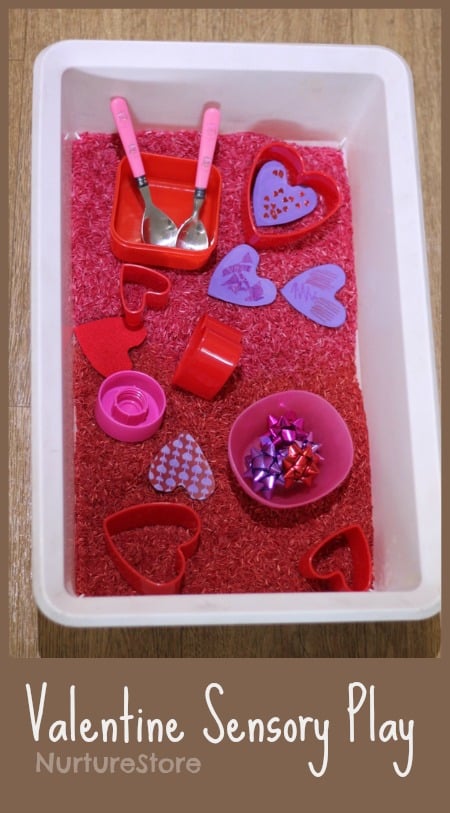 (Credit: nuturestore.co.uk)
---
Shopping list
Rice
Pink and Red Food Colouring
A Tub
Pink and Red accessories ( heart cutters, paper hearts, bows etc)
---
Method
Firstly, dye your rice pink and red
Add your rice to your tub
Then you can start adding all your valentines accessories 
Let the children explore and enjoy!
---
Melt the Frozen Hearts
(credit:secondstorywindow.net)
---
Shopping list
Pink, Blue, Purple and Red Food Colouring
Red, Purple and Pink Plastic Hearts
Water
---
Method
Add the food colouring to water and add the hearts in a small container and freeze.
Repeat this process in layers so all the hearts are in different positions.
Freeze over night, then put on a tuff tray and let the children melt and have fun!